Automotive Body & Collision Repair
PA CIP CODE: 47.0603
AUTOMOTIVE BODY & COLLISION REPAIR INSTRUCTOR:
Mrs. Jayme Shuleski
COURSE DESCRIPTION
The Auto Body and Collision Repair course offers training in the repair of conventional and unibody vehicles. Students will learn MIG welding, torch operation, plasma cutting, resistance spot welding, panel repair, panel replacement, glass installation, plastic work, and refinishing. A state-of-the-art down draft paint booth is utilized for the practice of spray gun operation and painting techniques including custom paint work. In addition, students are trained in collision damage analysis and unibody straightening by use of the Chief E-Z Liner II system.
----------------------------------------------------------------------------------------------------------
----------------------------------------------------------------------------------------------------------
1932 Buick Preservation Project
Project Based Learning
Project Overview:
To maintain an interest in hands-on craftsmanship skills the Auto Body shop instructor gathers student input as to extra credit projects. Several years ago a Rat Rod project was discussed. A local salvage and repair business had an old vehicle sitting in the yard for about 35 years. Turned out that this vehicle purchased by the instructor was originally a 1932 Buick model 97. This Buick was converted to a tow truck sometime in the late 30's or early 40's. To restore this vehicle would be extremely expensive so it was decided to be a preservation not a restoration.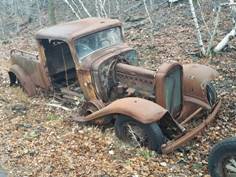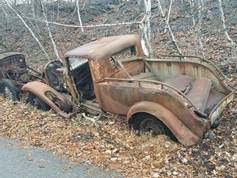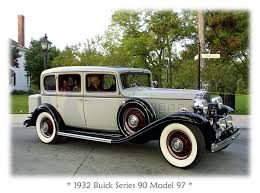 Acknowledgements:
Before we go any further about this project it important you know this was a multi-shop endeavor. Additionally local businesses supported this project with their time, knowledge, services and overwhelming generosity in support of Vocational and Technical training.
We would like to thank: Butch Lispi for his generosity over 30 years. He and his employees have always been available to help students in any way needed. This project could not be completed without the assistance of the WBACTC Machine Shop under the direction on Mike Pac, the Home Building and Remodeling Shop with Phillip Rodzon and Mark Baclasky. The Auto Mechanic Shops with Pete Holland and George Albright, The Plumbing Shop with Chris Shrader and the Welding Shop with Ken Valaitis. We would also like to thank the Occupational Advisory Committees that give up their time twice a year to help keep all WBACTC programs up to date and effective learning environments.
Standards:
Metal working and part fabrication.
History of automotive design and concepts.
Historical data research.
Antique, Vintage and Classic Car Clubs and opportunities.
Objectives:
Understand types of metals, metal working and shaping.
Increase skills with hammer and dolly, English wheel, and other metal shaping equipment.
Increase skill in advanced welding techniques.
Increase knowledge and involvement in Car Clubs to gain access to additional job opportunities.
Requirements/Task(s):
Preserve and restore all original parts.
Fabricate to original specifications any parts not available.
Join or access AACA Forums and other clubs to locate reproduction parts.
Combine all information into a project flow chart and prepare a cost analysis.
Determine best direction and outcome given the project condition and completed value.
Notes & Research:
The original plan as discussed several years ago was to build a RAT ROD. Typically a Rat Rod is chopped at the frame and drastically modified to be lower to the ground. Once we researched and found the vehicle to be a 1932 Buick Model 97 there was no way we were going to cut this vehicle's frame. The project now moved to a restoration project. The main reason being that the 90 series Buicks are the only Buicks recognized as true classics by the AACA.
Outline of the steps/plan for the project:
Photograph and video entire vehicle from multiple angles. Take photos during and after disassembly.
Identify and mark parts for restoration, fabrication or purchase.
Collect all serial numbers and gather information on availability, rarity, and history.
Determine completed value and weigh it against project budget.
Set project timeline and estimate appropriate time on task allowed for special projects.
Disassemble dash and wiring harness. Remove firewall mat, hardware and linkages.
Mark and remove all metal fuel and vacuum lines.
Disassemble the vehicle. Photograph and measure parts to be fabricated or restored.
Estimate metal stock required to fabricate and repair frame and body parts.
Remove and trace for patterns any wood parts. Determine type of wood available for replacing these parts.
Order reproduction repair, specifications and maintenance manuals.
Remove engine and transmission. Begin engine disassembly.
Measure engine parts to determine wear. Research engine parts not meeting specifications. Create a parts list and order required engine parts.
Send parts to be machined to the machine shop with specs.
Disassemble clutch assembly and rebuild to specs.
Remove clean and re-grease all suspension and steering components.
Measure and dimension frame to check for damage.
Fabricate frame patches as need and weld in place. Media blast and paint frame.
Reassemble suspension and steering components. Disassemble wheels and braking system. Replace parts as required. Grease wheel bearings and reassemble.
Remove paint and rust from body metal.
Fabricate body metal patches and weld in place. Fabricate side skirts and other required body parts.
Measure for floor and toe-board. Use floor pieces to guesstimate floor at toe-board shape.
Fabricate floor with opening for transmission shifter, starter pedal, wizard control and battery box.
Disassemble and overhaul starter, generator, distributor, water pump and radiator fan hub.
Fabricate oil regulator cover. Design and machine brass oil cooler by-pass fittings.
Restore and refinish body metal.
Reassemble major body components.
Measure openings and fabricate door frames and outer skin.
Create wiring harness and run electrical systems.
Measure for gas tank and fuel system components.
Students are ready to create your project! They are advised to please revisit the project tasks/requirements as they work.
Summarize what they learned:
When asked what the students learned they replied:
Must be careful with the disassembly of parts you have because you never know if they are available.
Test everything you fabricate for proper fit prior to body work. Even if you have to assemble and disassemble over and over until they are correct.
If you did not weld something right you will find out the hard way.
Rounded fenders with beaded edges and contours are more difficult than repairs on newer vehicles.
Learned to weld much better. When asked "why they are better?" They said " PRACTICE !"
1932 Buick's First Start Video!