Welcome to the Wilkes-Barre Area
Career & Technical Center
..:: News ::..
RESIDENTIAL CONSTRUCTION STUDENTS MAKE PICNIC TABLES FOR PARK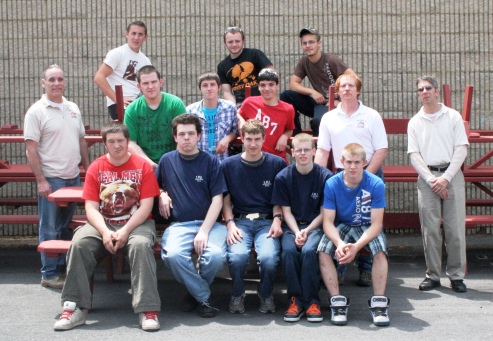 Pictured left to right, First Row: John Jendrek, Charles Gittens, Jeffery Rowles, Travis Rowland, and Brian Garson. Second row: Mr. Mark Baclasky, Teacher Associate; Eric Quinn, Adam Berhoski, Joe Banish, Mr. Phil Rodzon, Residential Construction Teacher; Mr. Joe Fender, L.I.U. Instructor. Third row: Aaron Strait, Micheal Yanelski and Zach Weidow.
Mr. Phil Rodzon's Residential Construction students built several picnic tables for the Birchwood Hills Recreation Park in Plains Township. Birchwood supplied the materials for the tables after contacting the school to see if they would help with the project. Students from the L.I.U. then painted the tables.
YOUNG LAWYERS FROM LUZERNE CO. BAR ASSOC. ADDRESSES LAW ENFORCEMENT CLASS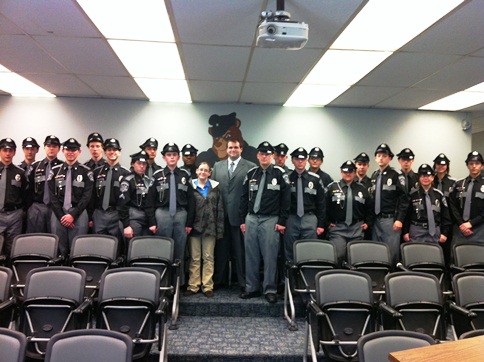 Pictured above is Atty. Peter Halesey Jr. with the Law Enforcement Program
Young Lawyers from Luzerne County Bar Association addressed law enforcement class on the recent Boston Marathon bombing as it relates to issues of search and seizure, and miranda.
MASONRY STUDENTS MAKE MOTHER'S DAY PLANTERS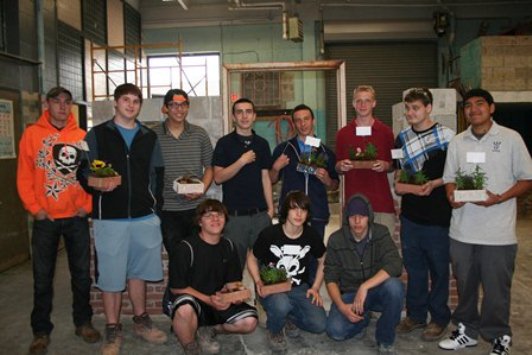 Pictured kneeling from left to right are: Paul Scerlinski, Richard Sarbaugh and Brandon Stone Standing left to right: Adam Dahaher, Austin Everding, Quintin Conklin, Joseph Cunningham, Colton Balliet, Joseph Mansfield, John Herb and Edwin Vergara.
Students in Mr. Anthony Chopyak's Masonry class at WBACTC made Mother's Day planters out of bricks. They were assisted in making the planters by Mrs. Janice Leiby's Horticulture class.
CTC STUDENT CHOSEN AS CITIZENS VOICE ATHLETE OF THE WEEK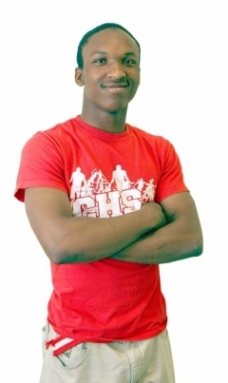 Pictured above is Mujahid Chesson, WBACTC Carpentry & Millwork Student.
Recently, Chesson, a senior from Coughlin, tied the meet and school record in the 100 dash (10.7 seconds), anchored the winning 400 relay (43.2) and was the leadoff leg on the victorious 1600 relay (3:32.3) as the Crusaders won the team title at the Cross Invitational. Mujahid is a WBACTC senior in Mr. Chris George's Carpentry and Millwork program. To read the complete story from Citizens' Voice, click the following link -- ATHLETE OF THE WEEK: MUJAHID CHESSON
HEALTH ASSISTANT STUDENTS WIN AT HOSA STATE COMPETITION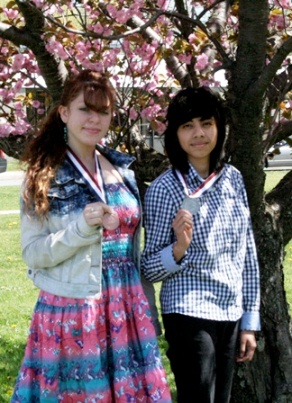 Pictured from left to right are Pink Lloyd and Kim Flores with their medals.
Two students from Mrs. Tina Lobrutto's Health Assistant program at WBACTC took home medals from state competition. Pink Lloyd placed 3rd in Medical Law and Ethics and Kim Flores placed 2nd in Medical Interviewing at the HOSA competition in Lancaster. Over 800 students from around the state competed in the annual competition for Health Occupations Students of America.
COME OUT OF HIGH SCHOOL WITH A JOB & NO DEBT


Both NBC's Today Show and Education Week national newspaper recently covered stories promoting an alternative path for high school students to land a career without the debt, if college isn't for you... Career/Vocational Schools!

**Article & Video Courtesy of NBC - The Today Show April 26, 2013, Education Week April 23, 2013**
2013 SENIOR AWARDS NIGHT SET FOR JUNE 5TH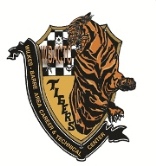 WEDNESDAY, JUNE 5, 2013
The 2013 WBACTC Senior Awards Night Program is scheduled for Wednesday evening, June 5th, at 6:30pm, here at the school.
**To stop & view a particular story, click the corresponding Story button above**
================================
May 27. 2013 - School Closed: Memorial Day
June 5, 2013 - Senior Awards Night Program
June 11, 2013 - Last Student Day
June 12, 2013 - In Service Day: Last Teacher Day
June 10-13, 2013 - Designated Make-Up Days
===================================
..:: Public Notice of Non-Discrimination ::..
The Wilkes Barre Area Career and Technical Center does not discriminate on the basis of race, color, national origin, sex, disability or age in its program or activities and provides equal access to the Boy Scouts and other designated Youth Groups. For information on services, activities and/or accessibility, contact: Support Programs Coordinator Title IX and Section 504 Coordinator, (570)822-4131, Wilkes Barre Area Career and Technical Center, 350 Jumper Road, Wilkes-Barre, Pa. 18705-0699, www.wbactc.org
School Website: www.wbactc.org
Equal Opportunity Employer (EOE)